INSTOCK- WALLEE PRO- Ultimate Cross Body Phone BAG !!!
Rs999.00

Rs999.00

Save Rs1,209
---
---
At tudoholic, we're committed to providing you with exceptional products and an unparalleled shopping experience. Customer-Centric Approach: Your satisfaction is our priority. We're here to assist you at every step of your shopping journey. Fast and Secure Shipping: We offer swift and secure shipping to ensure your order reaches you in perfect condition, no matter where you are. Hassle-Free Returns: If you're not completely satisfied with your purchase, we offer easy returns to make your shopping experience risk-free.
Are you always on the go? Having a hard time holding your phone and wallet at the same time? We have a solution for you! Introducing the 2in1 PHONE and WALLET BAG: WALLEE

100% EXCLUSIVE !!! 

BRAND NEW !!!
ALL GIRLS MUST HAVE THIS LUXURY PORTFOLIO HANDBAG 


Wallee finally arrives in NEPAL

No. 1 in sales since the beginning of this year in France and in the US, Wallie™️ has already satisfied more than 10,000 customers around the world.


2in1 Phone and Wallet Bag is a COMBINATION of WALLET and PHONE POUCH in ONE MINI SLING BAG. It is SPECIALLY DESIGNED to EASILY CARRY your PHONE and WALLET at the SAME TIME. It is MADE of HIGH-QUALITY PU LEATHER making it STYLISH and DURABLE. The ZIPPERS are SMOOTH enough and DOES NOT STUCK or SEPARATE. It has a STRONG MAGNATIC SNAP on the POUCH to SECURELY KEEP your PHONE.
Acclaimed by the biggest brands, this compact and practical bag allows you to carry everything in a small format!

The remarkably soft touch of the imitation leather gives it a real leather look. The high-quality zipper and its conception make this bag splash-proof.

Usable as a shoulder strap or simply as a handbag, it will allow you to take with you, credit cards, ID, cash (coins and banknotes) as well as all your small essential accessories (lipstick etc.) and of course your mobile phone thanks to its dedicated universal pocket.

Its simple and elegant design matches perfectly with all styles of clothing. Available in many colors, feel free to vary the pleasure by offering you several Wallie™️ 😉!
Fashionable design, practical, multi-functional and comfortable to wear. It's also a great gift idea for the one you love ❤️.


CHARACTERISTICS :

BAG SIZE : 18 X 11 X 4 CM
STRAP SIZE : 63 CM
MATERIAL : HIGH QUALITY COTTON AND IMITATION LEATHER
SPLASH-PROOF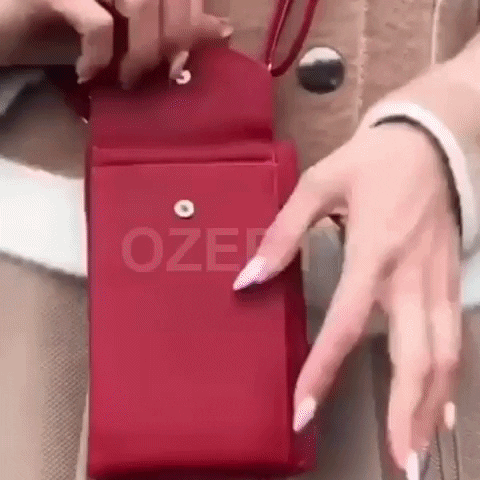 ---
We Also Recommend